MET-Rx® BIG 100 - Crispy Apple Pie
12 bars
Meal Replacement Bar
Product Label
Meal replacement bar - Includes metamyosyn protein - 31g protein, 0g transfat. - Made with real fruit - Crispy apple pie - Naturally flavored.
Directions
Adults, for best results drink 8 fl. ounces of water or other liquid with this bar.
Warning
This product contains sugar alcohols, which may cause gastrointestinal discomfort. Excessive consumption may have a laxative effect.


* These statements have not been evaluated by the Food and Drug Administration. This product is not intended to diagnose, treat, cure, or prevent any disease.
Manufactured by MET-Rx Nutrition, Inc.,
Boca Raton, FL 33487 ©2009
Energy Bars-A Weight-Loss Secret Weapon
Supplement Facts

Serving Size 1 BAR (100G)

Servings Per Container 12

Amount Per
Serving

% Daily
Value

Calories

400

N/A*

Calories From Fat

90

N/A*

Total Fat

10 Gm

16%

Saturated Fat

5 Gm

26%

TRANS FAT

0 Gm

N/A*

Cholesterol

20 Mg

6%

Sodium

390 Mg

16%

Potassium

100 Mg

3%

Total Carbohydrate

47 Gm

16%

Dietary Fiber

2 Gm

6%

Sugars

29 Gm

N/A*

SUGAR ALCOHOLS

3 Gm

N/A*

Protein

31 Gm

63%

Vitamin A

0

35%

Vitamin C

0

35%

Calcium

0

10%

Iron

0

25%

Vitamin E

0

30%

Thiamin

0

35%

Riboflavin

0

35%

Niacin

0

35%

Vitamin B-6

0

30%

Folic Acid

0

40%

Vitamin B-12

0

30%

Biotin

0

40%

Pantothenic Acid

0

35%

Phosphorus

0

25%

Iodine

0

30%

Zinc

0

40%

Copper

0

60%
* Daily value not established
Other Ingredients:
Soy Crisps (Soy Protein Isolate, Tapioca Starch, Salt), Apple Layer (Fruit [Apple Puree Concentrate, Deionized Apple Juice Concentrate], Sugar, Glucose Syrup, Glycerol, Palm Fat, Corn Starch, Wheat Fiber, Malic Acid, Natural Apple Flavor, Calcium Lactate, Sunflower Lecithin), Yogurt Flavored Coating (Sugar, Palm Kernel Oil, Nonfat Dry Milk Solids, Yogurt Powder [Cultured Whey Protein Concentrate, Cultured Skim Milk, Yogurt Culture], Soy Lecithin, Salt, Natural Flavor), Corn Syrup, Crystalline Fructose, METAMYOSYN(R) V100 Protein Blend (Whey Protein Isolate, Milk Protein Isolate, Whey Protein Concentrate, Dried Egg White, L-Glutamine), Maltitol Syrup, Diced Apples, Palm Oil, Glycerin, Water, Canola Oil, Ground Cinnamon, Natural Flavor, Fructooligosaccharides, Xanthan Gum, Vitamin and Mineral Blend (Ascorbic Acid, d-Alpha Tocopheryl Acetate, Niacinamide, TricalciumPhosphate, Zinc Oxide, Copper Gluconate, d-Calcium Pantothenate, Vitamin A Palmitate, Pyridoxine Hydrochloride, Thiamin Mononitrate, Riboflavin, Folic Acid, Biotin, Potassium Iodide, Cyanocobalamin), Dipotassium Phosphate, Salt, Soy Lecithin, Wheat Germ, Peanut Flour, Almond Butter.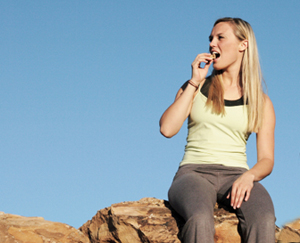 Decide whether your bar will be a snack or part of a meal
Whether part of a planned program or eaten on the fly, bars bridge the hunger gap and boost your energy. When you're working on your waistline, today's bars can support your weight-loss efforts, especially when fresh food and refrigeration aren't in easy reach. And when you're in a rush, munching on an energy bar is one of the best stop-gap measures for those sudden "I'm ravenous" moments. Downing a healthy bar can even prevent a "roadside attraction" binge of fries, shakes, or convenience-store goodies like high-calorie, high-fat chips and cookies. In other words, energy bars can be a helpful tool in your diet plan.
Put your hunger behind bars
First, you need to decide whether your bar will be a snack or part of a meal. "If it's a snack, the bars should have less than 180 calories," advises Dawn Jackson Blatner, RD, the national media spokesperson for the American Dietetic Association in Chicago. "If it's a meal, the bar should be more than 200 calories and needs to be eaten with fruit and vegetables to satisfy you for four or more hours till you eat again."
In fact, substituting an energy bar-paired with an apple or veggie salad-for one meal each day can help you lose weight. "By adding fruits and vegetables, which are high in fiber and water, you'll feel more full," says Blatner. "This can help accelerate weight loss." If your goal is to drop a few pounds, Blatner says you need to read the nutrient label to make sure your meal-replacing bar contains:
at least 200 calories
3 grams or less saturated fat
3 grams or more fiber (to help you feel full)
at least 10 grams of protein (to help tide you over till your next meal)
Indulge in your favorite flavors
As a general rule, look for bars with the least sugar and the most fiber (in other words, "good carbs") or protein (whatever your preference) to avoid the crash that comes from eating bars that are more like candy disguised in "natural" packaging.
"After you've read the label, it all boils down to personal preference," says Blatner. Love dried berries? Go for a fruity bar. Granola, nut, or yogurt fan? Store shelves are stocked with bars for every discriminating taste. You can take your pick from grain- or yogurt-based, to nut- or fruit-dense bars.
Simply scan the ingredient list for the foods or flavors you fancy and cross-check it with the label's nutrition facts to ensure it fits with your diet goals.
Pick the best bar for the job
As the seemingly endless choices will attest, you can find a bar to fit your evolving healthy lifestyle needs. Lifting weights? Try a high-protein bar favored by weight-trainers to help repair muscle. Love jogging, hiking, and biking? Look for high-carb bars preferred by the distance runners who crave instant energy.
If you're interested in eating fewer preservatives and getting the maximum nutrients from the foods you eat, you might like a raw energy bar. The tastes may vary widely but they are typically packed with robust ingredients such as nuts, nectar, berries, and ginger.
Enjoy!
Nancy Gottesman, a nutrition writer and mother in southern California, admits to needing way more energy than these bars can provide!