Monster Amino 13.2oz (30 Servings) by Cytosport
CytoSport Monster Amino Product Guide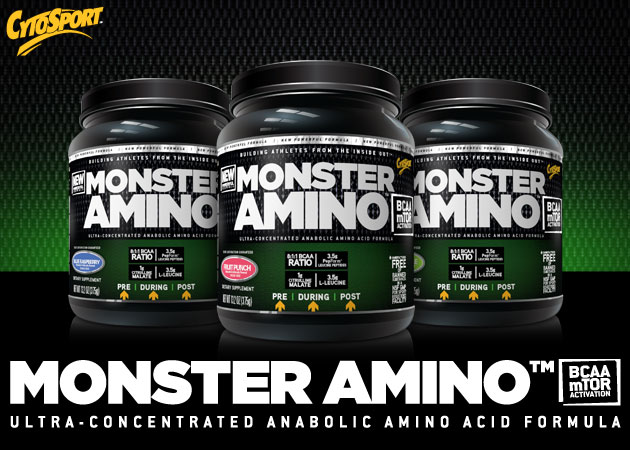 ULTRA-CONCENTRATED ANABOLIC AMINO ACID FORMULA
MONSTER AMINO is an ultra-concentrated BCAA formula that delivers an 8:1:1 ratio of Leucine to Isoleucine to Valine. Recent university research shows that Leucine enriched beverages consumed with exercise synergistically activate and prolong activity of the mTOR signaling pathway, which increases muscle anabolic potential (muscle growth).1,2,3 The mTOR pathway is the "trigger" that signals the very genesis of muscle protein synthesis.*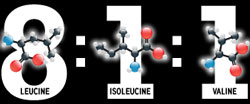 MONSTER AMINO is able to achieve the anabolic 8:1:1 BCAA ratio by combining PepForm™ Leucine Peptides, and free-form L-Leucine, L-Isoleucine and L-Valine to help promote maximum muscle-building performance.
FULL LABEL TRANSPARENCY
No proprietary blends. With MONSTER AMINO, you know exactly how much of each ingredient you are receiving per serving.
MONSTER AMINO™ FEATURES
8:1:1 BCAA Ratio
9g Amino Acid Matrix
3.5g PepForm™ Leucine Peptides
Complete Amino Acid Profile
Citrulline Malate
No artificial FD&C Dyes
Sugar Free
Directions
As a dietary supplement, mix 1 level scoop (1

2.5g) of Monster Amino with 8-10 fl oz of water. Consume 1 serving immediately post-workout. Monster Amino can also be consumed before and during workouts or any time to boost amino acid pools and nitrogen balance. CytoSport products complement a healthful eating and hydration plan that, when combined with a balanced exercise program, may contribute to health weight management and recovery from exercise.
Nutrition Facts

†

Serving Size 1 Scoop
Servings Per Container 30
Amount Per Serving
Serving
% DV
Calories
10
-
Calories from Fat
0
-
Total Fat
0 g
0%
Saturated Fat
0 g
0%
Trans Fat
0 g
0%
Sodium
70 mg
3%
Potassium
80 mg
2%
Total Carbohydrate
1 g
0%
Dietary Fiber
0 g
0%
Sugars
0 g
-
Protein
3 g
6%
Monster Amino Matrix
9 g
-
Vitamin B6 (as pyridoxal-5-phosphate)
5 mg
250%
Typical Amino Acid Profile
-
Proprietary Blends

Monster Amino Matrix

Leucine Peptides (PepForm): 3,500mg; L-Leucine: 3,500mg; L-Isoleucine: 500mg; L-Valine: 500mg; Citrulline Malate: 1,000mg

Typical Amino Acid Profile

L-Alanine: 102mg; L-Arginine: 28mg; L-Aspartic Acid: 249mg; L-Cystine: 45mg; L-Glutamine and Precursors: 396mg; L-Glycine: 31mg; L-Histidine: 31mg; L-Isoleucine: 633mg; L-Leucine: 5,127mg; L-Lysine: 182mg; L-Methionine: 38mg; L-Phenylalanine: 59mg; L-Proline: 123mg; L-Serine: 95mg; L-Threonine: 147mg; L-Tryptophan: 42mg; L-Tyrosine: 56mg; L-Valine: 616mg

*percent Daily Values are based on a 2,000 calorie diet.

Ingredients: Natural and Artificial Flavor, Citric Acid, Malic Acid, Sodium Citrate, Potassium Citrate, Fruit and Vegetable Extract (Added for Color), Acesulfame Potassium, Sucralose, Carmine (Added for Color), Soy Lecithin.

*These statements have not been evaluated by the Food and Drug Administration. This product is not intended to diagnose, treat, cure or prevent any disease.

†Nutritions Facts are a simulation of the product "Nutrition Label". For the actual Nutrition Label please refer to the product packaging.
Warnings
Allergen Statement: This product contains ingredients derived from milk and soy. Do not use this product as your sole source of nutrition.